The History of Little Aston Park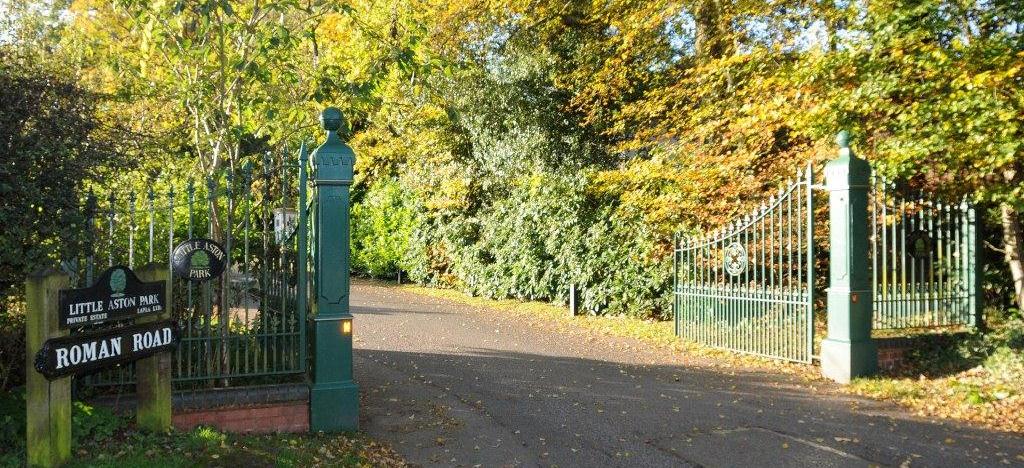 The manor of Little Aston dates back to the 14th Century and the reign of Henry III. References can be found linking both John, Lord of Eston, and Hugh La Rider, Lord of Aston, to the area at that time.
In 1509, John Bailey paid a half year rental of £5 for the Manor of Aston to William Lycett, Lord of Aston Manor. The Fowke family, who owned many substantial properties in Staffordshire, purchased the Manor for £850 in 1574, subsequently selling it in 1621 to the Norman family Ducie, who lived there until 1720. Robert Ducie, a respected man throughout the country, was knighted and appointed Lord Mayor of London from 1630 - 1631.
In 1730 Richard Scott of Barr Hall had 'a fine new house' constructed and the old mansion, which was a half timbered building, was used as a stable. In 1765 the Hall was restyled by Humphry Minchin who had taken a 99 year lease on the property, with the grounds strategically planted to create a fine Georgian Landscape. William Tennant then purchased the Freehold of the Estate in 1820 and employed the services of James Wyatt, a famous Architect and a Landscapist named Eames to create "a little paradise amidst the surrounding desert" (the front cover illustration shows the Hall as it was in 1801). The Estate was sold in July 1828 to William Leigh of whom little is known and in 1844 the Honourable Edward Swynfen Parker Jervis had the Hall purchased for him by his father, the Second Viscount St. Vincent. During the period 1857-1859 the Hall was updated giving it a style of Finistral Italianate Palazzo and in 1872 a lease was granted to a society for the "Treatment and Cure of Inebriety".
In 1907 Little Aston Hall was purchased along with its 1500 acres of Estate by an eminent Birmingham solicitor, Joseph Bennett Clarke. Clarke retained the immediate 100 acres of deer park and gardens around the Hall for his own personal use, along with Barns Farm. The rest of the Estate was sold a few months later, including four hundred acres on which Little Aston Golf Course was developed.
Clarke conceived the plans to give over large areas of the Estate grounds for residential development and in order to ensure that only high quality residences were built, restricted covenants were enforced. Cautious development proceeded until 1925 and only 16 houses were built, including Claverdon and Stonehouse, each with approximately seven acres. In the same year, Little Aston Park Estate was sold again and further plots of land were made available for individual residences.
The Hall was purchased at auction in 1924 by Harry Scribbans, a local cake maker. The Scribbans' famous slab cake was supplied in huge quantities to the forces' canteens in the First World War. Harry Scribbans died in 1935 and was described as one of Birmingham's richest but lavishly generous men. His widow, having re-married, moved out of the Hall in 1949. Unfortunately, the Hall did not sell for four years and fell into disrepair until Esso Petroleum Ltd acquired the premises for its Midland Division Headquarters, operating from there until 1968 when GKN took up residence.
The Hall was brought back to its original style and glory, having been sympathetically restored and converted by K.B. Jackson into seven luxurious apartments approximately thirty years ago. These are some of the very finest apartments in the Midlands with their unrivalled and original Georgian Parkland setting.
In the latter part of the twentieth century, further building took place on the Estate, including Squirrel Walk, Stonehouse Drive, Rosemary Drive and Roman Lane. Michael Quantrill recalls that a half acre building plot was sold by Quantrills for £10,000 in the late seventies and a similar plot has recently been sold for around £750,000. Quantrills have achieved some outstanding sales in Little Aston Park recently and there will always be considerable demand for quality residences in this area.